Thanks for stumbling by!
Picking out a gift– especially for guys– can be tough. Birthday, anniversary, Father's Day…there is a lot of gift giving throughout the year. The vastness of the internet has made gift buying much easier, but sometimes can be overwhelming. My goal here is to give you ideas, inspiration, and unique gifts for all the guys in your life. I will scour the web for you, review awesome things, so you can pick out the perfect gift for your man for every occasion.
So, who am I? Hi, I'm Jason… a brother, son, nephew, uncle, boyfriend, Navy Veteran, Emmy Award winner… Just a regular dude living in San Diego, with a hankering for odd, unusual, hard to find things that no one else has. I like odd, unusual, unique things. What guy doesn't? There I am to the left…holding a parrot in Maui a few months ago… Kinda cropped out the whole crew in that photo…I'll be introducing you to them in the future. I will be giving them gifts. They will be reviewing the products. Ofourse, I can always gift myself. Totally acceptable, right? right.
I don't have a huge family, and it's still hard to come up with a GOOD gift! My favorite kind of gift is one that i'm not looking for. I dont go to hawaii and look for souvineers for friends and family. I come across things in my journey that i think they would like. and think, my What IS a good gift? That's why I'm here. Bookmark my site, and I'll show you.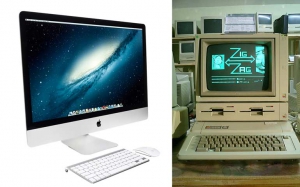 I've been button-pushing computers since kindergarten, when I turned on my first Apple iie. Now, I love my 27″ iMac. What a difference, huh? My, how time has flown! I do have a full-time job, but I'm always online…on my iphone, macbook, imac…Mac whore, I know. To be fair, the iphone and macbook are work-owned.
So this is my plan: To review the unique side of the web… find things that you'd never think about giving as a gift. You might be a procrastinator, and when you wait till the last minute to look for a gift, I want to be your number one resource for unique gifts for the guy in your life. I'll review it, and let you decide if it's worthy for your husband, boyfriend, brother, uncle.
I'm a guy. I know what guys want. Let me help you find a unique gift for your guy! If you find something here you like, buy it, give it, and let me know how much he loves it! Or, it could always go the other way..he could hate it! Hopefully not, but you never know! haha. I want to hear about that too! Any comments, or anything you have to add, by all means, go ahead.
E-mail me!
jason@uniquegifts4guys.com or leave a comment! I'd love to hear from you with any suggestions, advice or critiques. Bring it on…I can take it!
Be sure to sign up for updates, so when I find something awesome, I can let you know!
When I'm not scouring the web for you, I'm shooting the news in San Diego. Take a look: jz.media