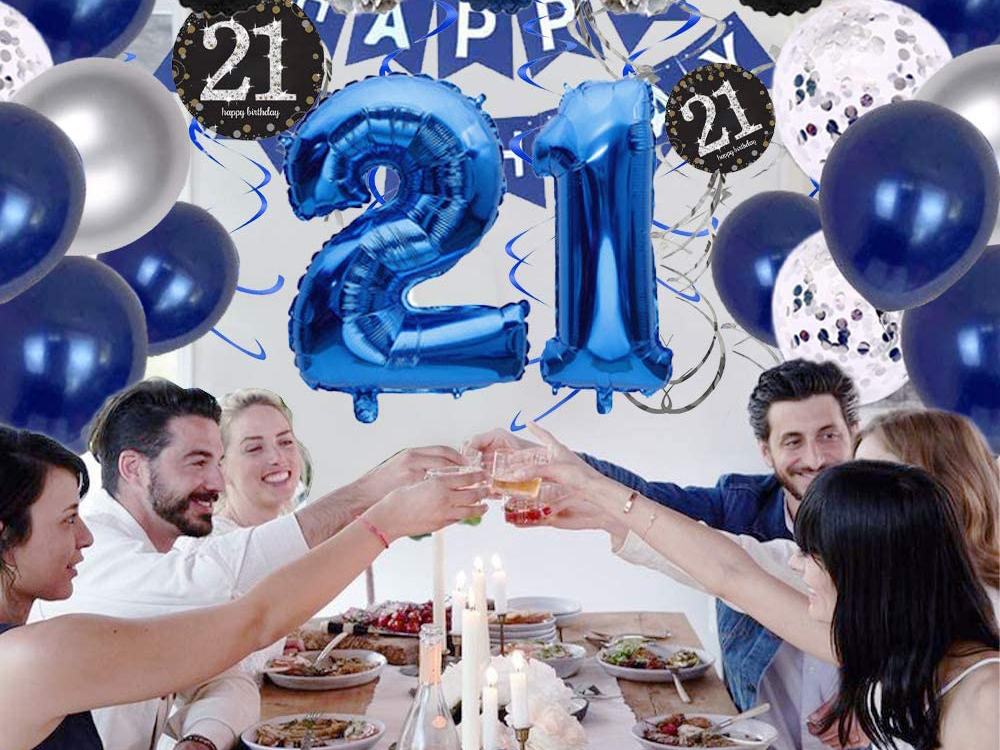 Cheap 21st Birthday Gift Ideas
Cheap 21st Birthday Gifts Ideas — We're all broke, but that doesn't mean you have to sacrifice on gift quality. There is plenty you can do to make your dollar stretch. Most people turning 21 might be away at college, or in the military… I turned 21 the first month of Navy bootcamp…but I did get to call home that day, for the first time, and I could barely talk because my voice was gone! I digress… Onto cheap 21st birthday gift ideas!
*Just a note before we begin…I wanted to make a list of cheap 21st birthday gift ideas that had nothing to do with booze…is that possible? I stopped drinking during the pandemic, so there is no reason to shove alcohol down everyone throat on their 21st birtday. sooo…. Let's see what we can find for 21st birthday gifts without alcohol…
Cheap 21st Birthday Gift Ideas without alcohol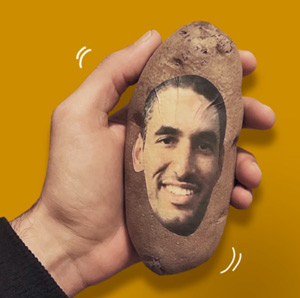 Nothing says "I'm turning 21" like a potato, amiright? who am I kidding..its totally random and you can even have your own message written on it. Mail it anonymously and watch the hilarity ensue. You're not buying a potato, your buying a memory. And that's why this "mail a russet potato" business is still around! There are plenty of businesses that mail potatoes, including the one from "Shark Tank" called "Potato Parcel". Also, mystery potatoe, Anonymous Potato & Mail a Spud.
But did you know you can also send a….
Give 'em a glitter bomb full of dicks. Dick-shaped glitter that is… spring-loaded for your pleasure. Don't forget the banana-dick ornament to go with. Via Pranks Anonymous. Send anonymous pranks and leave the feeling really confused. I'd even say a bag of worms from uncle jim's worm farm would be an appropriate gag gift to send any time of year!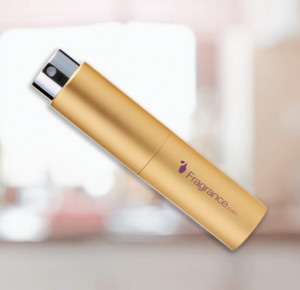 I love cologne samplers because I like to try different scents before committing to a new one. Frangrancenet.com has a subscription service that sends you new scent samplers of your choosing, as low as $9.99 a month. Each month you will receive ONE 8ml / 0.27oz travel atomizer and case filled with your scent of choice.
You can also search the cologne samplers they have on hand for super cheap. Buy a bunch. Gifts for days!
Ok, so you want to go a little more practical? I mean, what are you going to do with a glitter bomb the next day? Clean it up, I'll tell you what…for the next week I'm sure. But what he really needs is a daily facial regimen…because you know he doesn't. Is he more oily or dry? Here are a few cheap 21st birthday gift ideas for his face!
Cheap 21st Birthday Gift ideas for his face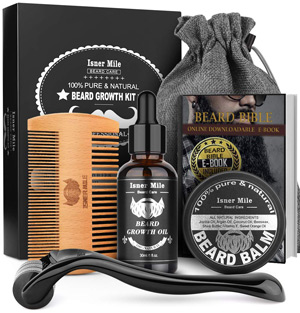 As a bearded man, beard oil is always a necessity. But not every man can grow a thick luxurious beard like mine…This kit comes with a face roller to encourage hair growth for those patchy beard situations…
"Use the rolling tool 8-10 times back and forth on each area horizontally, vertically and diagonally before applying face cream, beard oil, or skin serums, this can help you better distribute the oil and balm, and give you a healthier and thicker beard."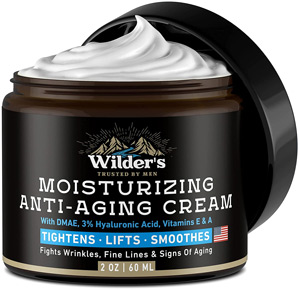 Oh boy, they are going to either love you or hate you for this one. "your face is wrinkly, here I got you this." They could get big-time offended…but that pretty much means they REALLY need to moisturize, because obviously, they don't. It's non-greasy, so it won't clog pores…
"The powerful formula with Hyaluronic Acid and Vitamins A & E helps to keep your skin hydrated all day long, and reduce the depth of wrinkles and fine lines. No need for multiple treatments – Wilder's is all a real man needs for good-looking healthy skin."
And with over 5,500 reviews, it had 4.5 stars on amazon…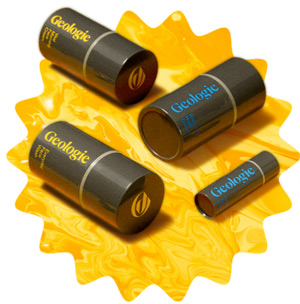 For an all-in-one approach to men's skincare, Geologie offers personalized services where you can build your own regimen, depending on your skin type. Geologie uses "clinically proven active ingredients that actually work." It's not the cheapest gift, but the correct facial regimen can't be underestimated. It's worth a lifetime of thanks. I remember getting facewash at the NEX…and the lady next to me said, you're gonna want toner, too… so I got toner, and still use it to this day..I didn't even know it was a thing…for guys at least. It's women who usually have all the facial products…but here we are talking about Geologie personalized skincare for men! What a great gift for guys!
Cheap 21st Birthday Gift Ideas to Eat
*remember when I posted about Lucky Charms just the marshmallows? Yum! What a good gift for guys. Always a kid at heart! I had a realization as a young adult that I could eat whatever I wanted…all the sugar cereals I want and no one could stop me! This includes lucky charms, that I couldn't have as a child because "it had too much sugar". Now I eat just the marshmallows!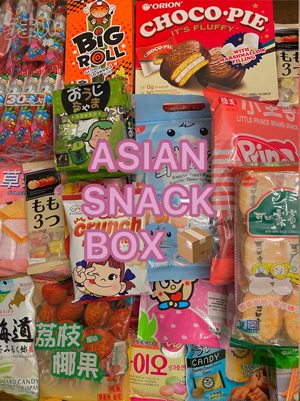 If you like to travel but haven't gotten very far, you'll love to snack on some Asian snack packs! I actually lived in Japan for 2 years, while in the Navy, and there are so many cool snacks and treats I'd buy and try anytime I'd go to the store. Once I bought cough drops and thought they were candy. This Asian snack pack doesn't contain any cough drops, but you'll love trying out all the different goodies. Comes with 12 treats total!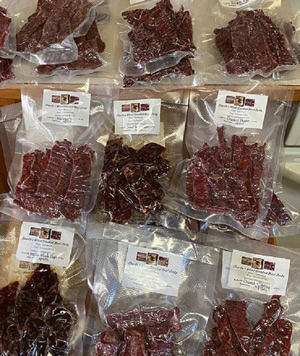 You can beat a bag of fresh jerky. I like to make it myself, but can be a bit time-consuming. I could gobble down a bag in a day, easily…but I mostly refrain. A little bit each day, I tell myself. There are a variety of jerky on etys, so browse around. You can never go wrong with a jerky sampler as a gift idea for guys. They will consume it and they will love it. end of story. But have you ever had Wild Caught Salmon Jerky?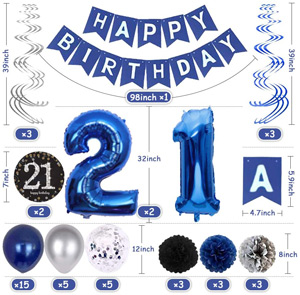 What's a party without decor? Decorations just make it feel special… Lots of decor options on amazon, but this one comes with:
2pcs 32inch Number Balloons +1pcs Blue "HAPPY BIRTHDAY" Banner + 3pcs Silver and 3pcs Blue Hanging Swirl + 2pcs Number Hanging Paper + 9Pcs Paper Pompoms(3pcs Black+3pcs Blue+3pcs Silver), 15pcs 12in Navy Blue Balloons + 5pcs 12in Silver Balloons + 5pcs 12in Silver Confetti Balloons