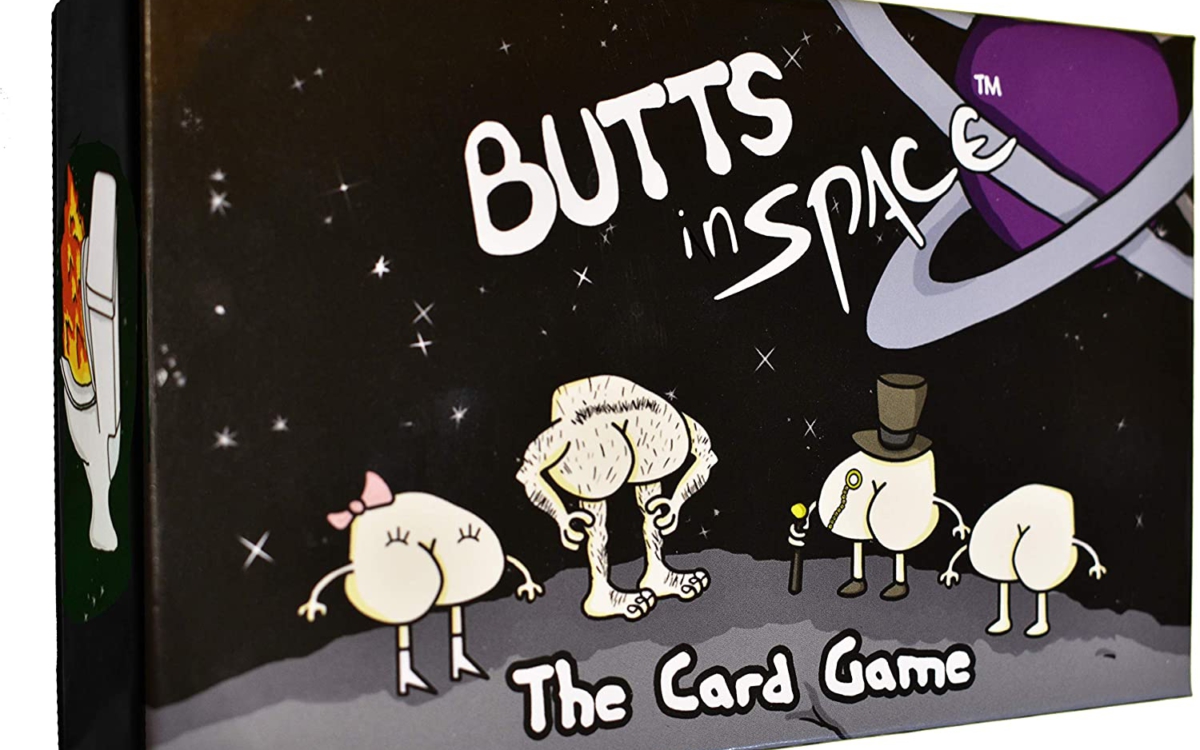 Unique Gifts for Guys – Whatcha got in the closet? Monopoly? sooo 1975. Take a look at some of the top-rated games on amazon…Thousands of 5 stars can't be wrong. Passing the time just got a whole lot funner. more fun. funnest… It's better than just sitting and staring at each other. Try a new game!
A telepathic party game that sparks fun and engaging conversational thinking

From the creators who brought you the award-winning games monikers and the mind

A game for 2-20 players, perfect for game nights and parties alike
Use your super powers to gain points and overcome your opponents to claim victory!

Comes with 2 playable maps: Gotham City Streets and Joker Carnival Chaos. Play as a stand-alone game or combine with other DC Funkoverse games!

Includes exclusive Pops The Joker, Harley Quinn, Batgirl, and Batman.

For Ages 10 and Up, 2-4 players. 20-60 minutes of playtime.

Number Of Players: 2 To 4
For 2 8+ Players

15 minute playing time

Age 14 and up

Codenames is a social word game with a simple premise and challenging game play. Two rival spymasters know the secret identities of 25 agents. Their teammates know the agents only by their codenames. The teams compete to see who can make contact with all of their agents first. Spymasters give one-word clues that can point to multiple words on the table. Their teammates try to guess words of their color while avoiding those that belong to the opposing team. And everyone wants to avoid the assassin. The game works very well with 4 players if you prefer to guess without help. Or you can add more players if you prefer lively discussion. There is also a cooperative variant where a single team tries to achieve the highest score they can by playing against the game itself.
?KEEP THE SPARK ALIVE – Our card game for couples promotes meaningful conversations and fun activities while allowing you to track your relationship progress

?CONNECT ON A DEEPER, MEANINGFUL LEVEL – Strengthen your relationship by connecting with your partner on important life areas such as dreams, spirituality, communication, love, and social life.

?RESEARCH BASED – Designed by a US-licensed psychologist, our game is based on published scientific research & psychological techniques used in marriage counseling, including CBT, EMDR, and mindfulness.
​Exciting cooperation game—everyone in the game is after the same goal: to escape!

​You have to solve 19 mental and physical puzzles before a mad scientist turns you into werewolves—and you have only an hour to do it!

​To enhance gameplay, players can connect to the Amazon Alexa.

​A great immersion experience!

​Includes 19 puzzles and three locks. You can do it!
From the creators of Exploding Kittens, Throw Throw Burrito is the world's first dodgeball card game!

Try to collect matching sets of cards faster than your opponents while simultaneously ducking, dodging, and throwing squishy airborne burritos. The cards you collect earn points, but getting hit by flying burritos loses them.

Clear some space and put away the antiques, because you've never played a party game quite like this before. Rack up points by finding sets of three in the deck. Find matches before anyone else does.

Steal points from your opponents by hitting them with squishy foam burritos. Declare war on your friends, brawl it out with a neighbor, or duel to determine the winner.

For 2-6 players. Includes 120 cards, 7 tokens, and 2 INCREDIBLY CUTE foam burritos soft enough to throw at your great-great Auntie Marlene without having to feel guilty!

"Throw Throw Burrito is a delightful mixture of cleverness and agility. It's like Uno meets Nerf." according to Marlene Huffincobble, your great Auntie and Burrito Enthusiast.
INCLUDES: 160 Challenge Cards, 80 Betting Tokens, 10 Cups, 5 Balls, 4 Dice, Chopsticks, Memo Pad, Tape Measure, Sand Timer

160 CHALLENGES: Ever had the satisfaction of throwing a paper ball in the bin from across the room? Well, that feeling is what this game is all about. Bet on your skills with solo challenges, battle royales, buddy ups, and duels.

FAST & FRENZIED FUN: Win by betting on your ability to successfully complete a series of ridiculous dexterity-based challenges. With a variety of tricky and outrageous challenges to test your skills, this board game will have you hooked in seconds.

FAMILY FRIENDLY: Great for kids and adults alike—all players attempt the exact same challenges, so get ready for the ultimate battle of abilities. Suitable for ages 11+, recommended 2-8 players.

EASY TO LEARN: Takes just seconds to learn, guarantees hours of belly busting laughter!
Exploding kittens is the perfect card game for adults, teens and kids who are into kittens and explosions and laser beams and sometimes goats.

More than 9 million copies sold, breaking records in kids games, adult games and everything in-between.

A highly strategic, kitty-powered version of Russian roulette. Basically, if you draw an exploding kitten, you lose and you are full of loser sad-sauce. If you don't explode, you win! Congratulations, you are full of greatness!

This "game of the year" award winner is the perfect holiday gift If you're looking for board games for adults but want to be able to play fun games with your kids as well.

"It's like UNO, except there are goats, magical enchiladas and kittens that can kill you." -CNN

This gift favorite takes 5 minutes to learn, 15 minutes to play, is for 2-5 players (ages 7+) and includes 56 cards, Box and instructions.
Evil Butt has stolen all of the toilet paper in the universe and destroyed your toilet space ship!

Play as Bow Butt, Hairy Butt, Classy Butt, and Butt Butt as you try to gather more toilet paper than your friends before your space ship is repaired!

Claim victory by having the most sets of cute toilet paper when the last space ship part is drawn from outer space.

Fun for the whole family! Kids, teens, and adults.

Supports 2 to 4 players and contains 120 colorful cartoon cards.
Build a unicorn army. Betray your friends. Unicorns are your friends now.

Unstable Unicorns is a strategic card game that will destroy your friendships…but in a good way.

The game was one of Kickstarter's top 100 most backed projects of all time and has sold over a million copies worldwide.

Unstable Unicorns won the 2019 People's Choice Award for Toy of the Year.

This highly giftable game takes 30–45 minutes to play and is for 2–8 players (recommended for ages 14+). The box contains 135 cards and a rule book and features a magnetic closure. This game is fully playable on its own, and any Unstable Unicorns expansion pack can be added to it.
Bears vs Babies is the perfect card game for adults, teens and kids (ages 10+) who are into building monstrous bears who eat horrible babies

A highly-strategic party game for 2-5 players and only 20 minutes to play

Includes 107 Cards (2.5 x 3.5 inches), Playmat, FAQ sheet, Rule Book all inside a FURRY BOX

Bears vs Babies is all about building amazing monsters, eating delicious babies and destroying the competition
BEST FAMILY FUN GAME – Dear Evolved Parents, Kids Against Maturity is the perfect parental tool to approach playtime and family time. With age-appropriate toilet humor and funny innuendos for the adults, it can be enjoyed by all ages.

PLAY IT ANY TIME ANY PLACE – One game set includes 500 question and answer cards and a handy box to store it all. It's portable and a take anywhere size game. Become an instant champion while camping, sleepovers, game nights, family gatherings, summer camp, plane trips and more!

IT'S SIMPLE & ABSOLUTELY HILARIOUS – Kids Against Maturity combines the tried and tested fill-in-the- blank game-play, a perfect enjoyable hilarious way to bring your family together.
GRANDPA BECK KNOWS BEST: A passion for family time inspires these gamemakers

CLASSIC STRATEGY GAME: Competitive play where the 1st to reach 1M in assets wins.

FUN FOR ALL: Create lasting memories and playful competition anytime, anywhere.

SIMPLE TO PLAY: Complete with simple-to-follow rules to get started right away.

EXCEPTIONAL FAMILY FUN: Your fun is our mission with all our games.
This is the social card game that is going to change your game night forever… This addictive game is as unique as its name. It's a power packed quick and simple party game. Race against each other to SLAP a match between a card and spoken word. But – watch out! – your mind will play tricks on you. This game was engineered for maximum fun. Enjoy!
CLASSIC CARD GAME FEEL: Grandpa Beck's Nuts About Mutts is an innovative spin on the classic hand-elimination card games, where the first player to get rid of all their cards wins! With unique twists and fast-paced play, this game is one of a kind! Each card is illustrated with vivid colors and fun pup-inspired themes, like fire hydrants, bones, varying breeds of dogs, and more! Nuts About Mutts is everything you look for and expect in a card game. It is as timeless and classic as Grandpa Beck

FUN FOR ALL AGES: Whether you are 5 or 105, Nuts About Mutts will bring out the rough-and-tumble energy and canine cunning needed to become top dog! Nuts About Mutts encourages bonding, helps create lasting memories, and inspires playful competition. The ultimate objective is fun! This game plays well with anywhere from 3 to 8 players, so whether hosting a playdate or having a game night with family and friends, Grandpa Beck's fast-moving matching game will win with everyone.

SIMPLE TO LEARN AND PLAY: The goal of Nuts About Mutts is to be the first player to get rid of all your cards. This delightful game comes complete with everything you need to get started playing! The simple-to-follow rules are quickly and concisely explained, helping to get the party started quickly. This game perfectly blends classic gameplay with special cards such as dog houses, pedigree, fleas, and more, that enhance the excitement of each turn.