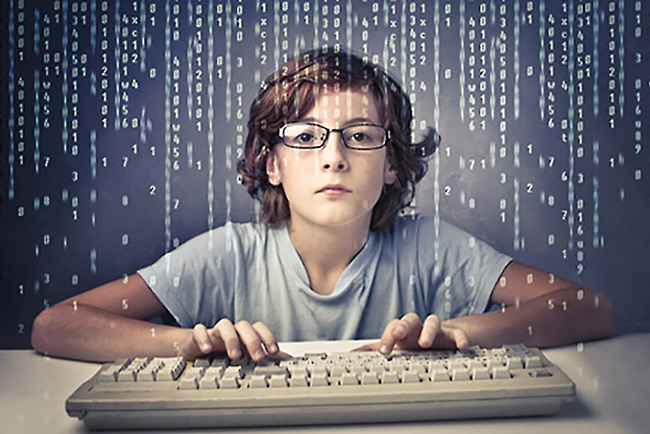 Computer Programming for Kids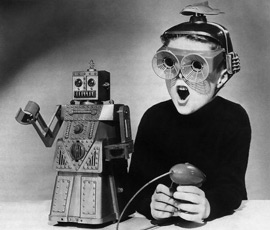 Unique Gifts for guys — Teach them now, so they can make you rich later…amiright? Computer programming is the j0b of right now and in the future… Everything we do is on a computer. The children of today need to know how to tell a computer what to do. If this talent is  taught at a young age, just imagine what they will program later on in life!
There are many edu-tainment devices out there that will teach kids the basics, and beyond, (in a fun way) on how to make a circuit board do what you tell it. And it would make a great gift, don'tcha think? Great birthday gift for any guy!
Here are a few of them that caught my eye.
Ozbot 2.0 Programmable Robot
Program your Ozobot Bit to dance, race, and more! Perfect for boys & girls from beginner to advanced.

One of the world's smallest programmable robots measuring in at just over 1 inch

Play in-app games or download activities from the Ozobot website

Create your own challenges, games and mazes for Ozobot

Includes a 90-day warranty
MiP Robot
Introducing MiP! MiP has an inquisitive and responsive personality communicated through motion, sounds, and RGB LED eyes

With his unique dual wheel balancing, MiP is able to navigate his surroundings, follow hand gestures, and even follow objects around

Watch MiP balance multiple objects while moving or standing still! Multiple robotic modes including Roam, Stacking, Dance, and Programming
OWI 14-in-1 Solar Robot
This solar powered robot can be transformed into 14 different robot modes

Powered by the sun – no batteries required

Two levels of building skill levels so the beginner and experienced robot builder will be equally engaged

Excellent addition to a home-school curriculum

OWI products are made in Taiwan – Include 4 color packaging in English

This solar powered robot can be transformed into 14 different robot modes

Powered by the sun – no batteries required
Robolink 11 in 1 set
Perfect for beginners learning robotics, electronics and Arduino programming. A head start in creative programming will have a positive impact on all aspects of your child's education!

This robotics kit can be transformed into 11 different types of robots; line-following robot, rubber band gun robot, edge-detection robot, interactive game robot, and many more. You can be sure this kit will keep your child engaged for hours at a time.

This programmable robot kit has proven to be an excellent addition to a home-school curriculum for hundreds of Robolink students.

Easy wiring, no soldering required. We've the designed the kit to be simple and safe so your child can learn without any risk of getting hurt.

We do include an instruction manual and helpful tutorial videos that will help you start programming and building immediately!
Makeblock Educational Starter Robot Build Kit Aluminum Frame Blue for Arduino Learners (IR Version)
Perfect for beginners learning robotics, electronics and Arduino programming

Build a Robot Tank or a Three-Wheeled Robot Car

Aluminum extrusion structure, Easy wiring, no soldering required

Drag and drop Graphical programming inspired by Scratch 2.0

all-in-one solution for robotics learning and designed for STEM education

There is also a Bluetooth version of this robot.
Sparki the Programmable Arduino STEM Robot Kit for Kids by ArcBotics
Learn programming, electronics, and robotics with an active global community and excellent support. Designed for beginners, feature-rich enough for advanced users

Sparki includes sensors such as ultrasonic (detect distance), 3 light sensors, 5 line following and edge detection sensors, accelerometer (detect falls, climbs), magnetometer (sense magnetic field), a 128×64 Graphic LCD, remote control, and more!

Sparki includes a marker holder and stepper motor wheels for precise drawing and writing

Sparki comes preassembled, ready to go out-of-the-box with its USB cable

Sparki is being used for STEM (Science, Math, Engineering, Technology) and robotics education in classrooms and homes around the globe
Osmo Starter Kit
Groundbreaking system encourages creative thinking and social interaction by expanding gameplay beyond the screen

Games can be played and even created by the whole family, anywhere and on any surface

Set comes with reflector, base and Words, Masterpiece, Tangram and Newton Games

Works with latest iPads: iPad 2, iPad 3, iPad 4 iPad Mini, iPad Mini Retina, iPad Air

All four games can be downloaded for free from the iTune App store, only Word and Tangram require physical pieces
Osmo Genius Kit
Genius Kit includes a set of 5 different games that allows children to explore science, math, art, and more!

Kids and adults alike can cultivate their minds and creativity through Osmo's games

System comes with reflector, base and five apps: Words, Tangram, Newton, Masterpiece, Numbers

Designed for anyone aged 6 and up, this educational toy can be enjoyed by nearly everyone in the family

Works with latest iPads: iPad 2, iPad 3, iPad 4 iPad Mini, iPad Mini Retina, iPad Air
Coding Games Book
Did you know that Bill Gates, cofounder of Microsoft, wrote his first computer program—a tic-tac-toe game—at age 13? Coding Games in Scratch shows how kids can start coding their own games, too, using Scratch, a popular free programming language.
With Coding Games in Scratch, kids can build single and multiplayer platform games, create puzzles and memory games, race through mazes, add animation, and more. All they need is a desktop or laptop with Adobe 10.2 or later, and an internet connection to download Scratch 2.0. Coding can be done without download on https://scratch.mit.edu.