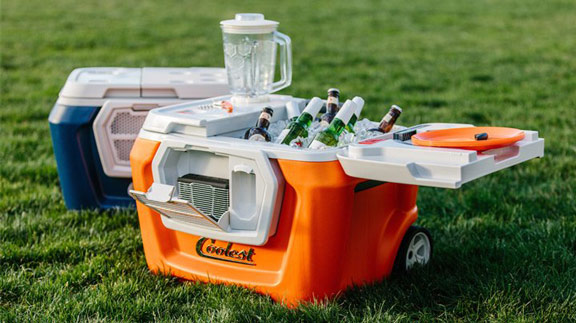 Unique Gifts 4 Guys — I am in the middle of a pool party, and I could really use the Coolest Cooler. It has everything you need to keep the party going:
18v Battery Powered Rechargeable Blender
Removable Waterproof Bluetooth Speaker
USB Charger
LED Lid Light
Gear Tie-Down
Cooler Divider/Cutting Board
Extra Wide Rolling Tires
Plate and Knife storage
Bottle Opener
Controversy
There is a lot of controversy over the Coolest Cooler…after Kickstarter backers did not received their cooler…One person says:
"Hey does anyone else remember that time they paid 200 bucks for a cooler only to wait two years to get it and have the seller ask for another 100 bucks to get it to you earlier. I'm expecting my cooler just in time for the summer of 2036…"
This article explains this situation.
Alternatives
But there are alternatives to the coolest cooler… sans margarita blender…
Such as the KoolMax Cooler:
Insulation technology keeps ice frozen up to 3 days
Detachable cooler flashlight
350 watts max output power
Bluetooth music player and FM radio with 2 water resistant speakers and tweakers
XLR, 1/4 input, 12 volt power outlet, 2 3.5 aux jacks, powered usb port, usb data port and SD card slot
Built in rechargeable battery with 16 hour playtime.
Weather resistant storage for iPad tablet and charging section for smartphones
Rugged wheels and telescopic cooler handles with a bottle opener
I do not own either of these, but I think the idea is very cool. I do have a friend who bought into the 'Coolest Cooler' kickstarter campaign a few years ago, and still has not received his
cooler. Not cool. Pun Intended.
If you have either one of these coolers, let us know how you like it in the comments below.